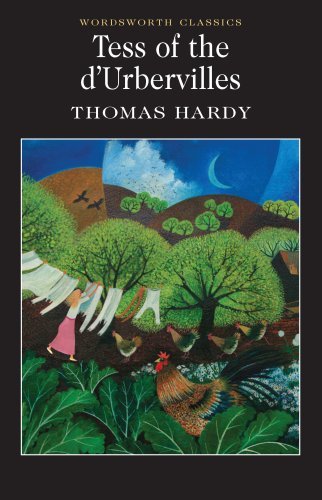 I have a vague feeling that a couple of decades ago, I have read or atleast attempted to read 'Far from the madding crowd' by Thomas Hardy. But considering I barely remember anything about it, Tess of the d'Urbervilles is my first proper introduction to Thomas Hardy's work.
The novel is a tragic coming of age story about Tess – a girl who is beautiful inside out but ends up in a life full of misfortunes.  Tess is the eldest child of an impoverished Durbeyfield family, living in the village of Marlott. Her father is a lazy day dreamer, living in past ancestral glory and her mother is  simple minded & naive. In her zeal to help her family, Tess ends up killing Prince their family horse. Guilt ridden she reluctantly agrees to her mother's foolish plan to claim kinship with the rich d'Urbervilles and that's where Tess's trials start.
Tess as a central character was pitiful and I felt a lot of sympathy for her but more than anything else I felt angry at her naivety and the inability to have any understanding of the people she encounters. As a reader you can read into the desires and intent of most characters and you feel so frustrated that Tess is oblivious to everything and as a result hopes and suffers through it all. Like the time when Alec foists strawberries on her with that telling line: "in a slight distress she parted her lips and took it in". Quite obvious what Alec was upto. But I guess that it also shows the mastery of Hardy's writing that you have such a strong emotional reaction to every twist & turn in the story.
More than anything else with this story Hardy is calling out the double standards of the Victorian society. He highlights the sexual hypocrisy, status & rights of women and the importance that was attached to the 'purity' of a woman. It is therefore no surprise then that when the story was first published it shocked the readers for its frank portrayal of sexual desire and the challenge it posed to their social values. The two lead male characters though so different from each other are still the odious products of the society. Alec is the typical alpha male whose smitten by Tess and wants to own her at any cost. Angel, a gentle but muddled soul, loves the idea of Tess as an ethereal pure being but never really sees her as a human being who has been through ups & downs of life just like him.
The story is set in rural southwest England where Hardy grew up. You can feel his love for the landscape in the idyllic descriptions of the rolling hills, plains, meadows and the changing seasons. You also feel his pain at the slow decline of this earthy rural life he so cherishes and his despair at the encroachment of industrialisation into every facet of life.
Though an interesting read, this is by no means an easy read. The prose is difficult and Hardy uses very complex sentence structures that can sometimes be difficult to follow. There are also several biblical references and vernacular phrases which I had only contextual understanding of. At a few important junctures in the story, Hardy doesn't actually tell us what is happening with Tess but instead describes the surrounding and leaves us to infer what might have happened. But all of this adds to challenge and intrigue of this story.
The only thing I am unhappy about is the ending. Without giving the story away, I can only say that I found the settings of the last few scenes a bit silly! References to pagan rituals and authorities waiting on a sleeping Tess were a bit too much to believe. In the final scene, Hardy also hints at a new happy beginning which felt misplaced and in strong contrast to how the pensive mood I was in.
In summary a beautifully written tragic story that is a definite one time read. Not sure I would want to put myself through it again though!